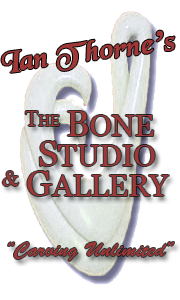 The Bone Studio and Gallery ...
Tools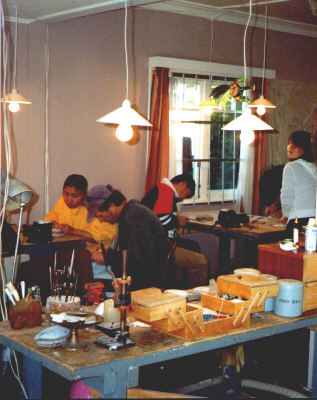 A class hard at work on their 'taonga'
All of the students work is done with hand tools such as files, jeweller saws, hand chisels (tool steel 'gravers') and sandpaper. Other operators usually do most of their work with Dremel drills which are very noisy, dusty, smelly and give a very rough and inconsistant finish. With hand tools only, people learn far more, get deeper focus and end up with a far more accurate and well finished product.
Myself, I use a top quality drill only momentarily for roughing out work and do everything else with hand tools. The result speaks for itself.



Gravers cannot be bought from a shop but I can make them to order in the workshop. They are the "real" carving tool and enable a carver to achieve greater variation, detail and accuracy in their work. There are many other tools used in a large workshop but it is possible to equip someone quite cheaply with enough tools to produce a carving from start to finish.
Set of 3 Gravers
NZ$100 + NZ$20 postage & packaging
Remember, you are creating Taonga (treasures) that may be around for centuries. Make them with respect and care so that someone will want to pass them on to their children.