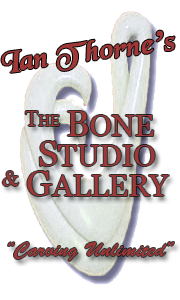 The Bone Studio and Gallery ...
Traditional Maori Carving Designs
Definitions ...
Click HERE
for a printable (Adobe Acrobat)
version of this page.
The Maori are a Polynesian people who have excelled in carving for centuries. The following is a short list of the traditional designs they have used. The figures are the simple versions — Maori artists would, of course, make their carvings very ornate.


| | | |
| --- | --- | --- |
| Koru | | From the tree fern, spiral representing New Life and Growth. |
| | Tiki | First Child or Ancestor. In feotal position. Strong Good Luck charm. |
| Heru | | Ceremonial headdress for Maori man, nowadays, a unisex hair adornment. |
| | Hei Matau | Fish hook originally carved from Maui's Grandmother's jawbone. Used to fish up the North Island. Brings Good Luck and Prosperity. |
| Koropepe | | Eel-type fish usually in motion. |
| | Manaia | Guardian of Spiritual Energy. Has the Head of a Bird, body of a Man and Tail of a Fish creating a balance of Sky, Earth and Sea. |
| Maripi | | Flesh cutting knife made with sharks teeth. For ceremonial occasions. |
| | Hei Toki-Adze | Representing Power and Authority (often male). |
| Wakahuia | | treasure box for Huia feathers, amulets, pendants and necklaces. |
| | Mere/Patu | Hand clubs. Symbolise Facing and Overcoming Life's Difficulties and Challenges. |
| Mokopeke | | Mythical snake-like creature relating back to early traves through Polynesia. |
| | Roimata | Teardrop of Tears of Sadness |
| Taiaha | | Long carved spear used in martial arts -- like combat. |
| | Tekoteko | Human-like figure from apex of meeting house (Wharenui). Usually portrays long departed Chief or Warrior. |
| Marakihau | | Mythical deep sea monster with human form and long tubular tongue. |
| | Tuere | Carved prow of canoe or waka. |
| Taurapa | | Carved stern post of Maori war canoe. |