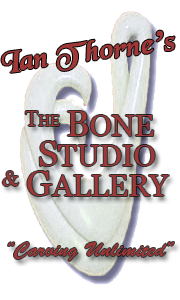 The Bone Studio and Gallery ...
Lochmara Art Retreat
During April 2007, I attended the annual artists retreat at Lochmara Lodge and Wildlife Recovery Centre in the Marlborough Sounds.
An awesome couple of weeks was had enjoying the environment, checking out the artworks already there, watching the new ones evolve and carving a block of amphibolite beside the still waters of the sounds. The support we got from the crew and management was outstanding and, with the great food and excellent company, we were able to network, relax, party and enjoy creating in a very supportive environment. We all want to go back soon!!!
Also discussed was the creation of a new Ecoartist Trust that will raise money through the sale of our work and contribute it to worthy environmental projects around Aotearoa. This will be up and running soon so contact them through the links on this page. It will be open to anyone who has something to contribute; with a small % to the fund for each sale made using the logo, or you can contribute work to be sold at the Lodge's new gallery that will open after winter.
Here's a step-by-step look at the creation of my piece - check out
the background!
Unfolding/Enfolding
An Amphibolite sculpture
By Ian Thorne
At Lochmara Lodge, '07
$3000 (20% to the Ecoartist fund).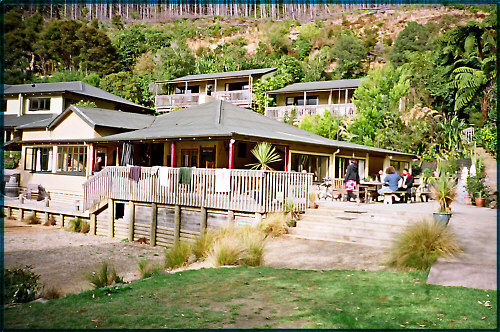 Lochmara Lodge
Marlborough Sounds
Idyllic Workspace
| | | |
| --- | --- | --- |
| Step 1 - Prepare | Step 2 - Outline | Step 3 - Blocking Out |
| | | |
| --- | --- | --- |
| Smoothing | Polishing | Finished |
| | | |
| --- | --- | --- |
| Finished | Smoothing | Polishing |