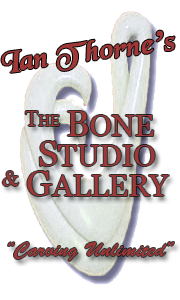 The Bone Studio and Gallery ...
Helpful Links
Life and business at The Bone Studio would be much more difficult without some of the great Galleries around NZ that I sell through, the Suppliers of tools for a trade that doesn't have any specialty stores, and the support and help of other artists and associated businesses I deal with. For that reason, I am including them on my Links page as thanks and to support them as they support and help me. If you think you should be on it too, just ask!
Galleries
Not all of my work is sold thro The Bone Studio. I also rely on these great outlets to sell my work around Aotearoa. Contact them to see if they have more of my work in stock, or that of others great carvers and artists.
The Little Gallery
of Fine Arts
Main Rd, Tairua
E-mail
Bounty
Pollen St, Thames
E-mail
Show Off Aoteroa NZ
2 Bow St, Raglan
E-mail
The Gallery and Cafe
Helena Bay Hill
Old Russell Rd,
RD 4, Hikurangi
E-mail
The Arts Factory
SH. 1, Te Hana
E-mail
Lochmara Lodge
Wildlife Recovery and Arts Centre
Queen Charlotte Sound
E-mail
Suppliers
Regal Castings
(burrs, files, saws, vices, drills, jewellers supplies, etc.)
7 Akiraho St, Mt Eden, Auckland

The Tool Shed
(vices, burrs, saws, drills, general hardware, etc.)
Various NZ locations

Diamond Edge Ltd
(diamond burrs, files, paper, grinding cups, etc.)
Unit 2, 40 Canaveral Drive, Rosedale, Auckland 0632

Sewingtime NZ Ltd
(braid and cord for lashing and tying)
10 Margot St, Newmarket, Auckland

Artists and Friends
Data Koncepts
Without DK's work developing, maintaining and hosting my website, The Bone Studio
would not have survived its early years. Using his business and technical expertise,
this website is fast, efficient and quite user friendly - at a very reasonable rate.

Mercury Bay Art Escape
(Bi-ennial Art Tour-multiple artists)

Artworks and Cafes of the Coromandel
(beautiful guidebook to all that's arty)
Robyn Lawrence - publisher
E-Mail
Ecoartists NZ
(group of fundraising eco-artists)
Joseph Walker - instigator
Lochmara Lodge - sponsor

Ta Moko artist James Webster
(top maori tattooist and carver)

Taonga Puoro artist Brian Flintoff
(trad styled maori musical instruments)
If I don't have what you need try Brian.

CD's of Taonga Puoro music
(in particular Hirini Melbourne or Haumanu)

Julia Thorne - Photographer
(My Sis is fantastic at photographing carvings,
paintings and you! Quality is priceless.
Arty pics a specialty!)

Leanne Halliwell- Whitianga Natural Health
Massage Therapist, Naturopath and Herbalist
(without her I couldn't even move to work- legend!)
E-mail
The Lost Spring
Cook Dr, Whitianga
Hot Springs and Day-spa
(great for soaking tired muscles and
totally chilling-out. Spectacular!!)

The Eggsentric Cafe
Fantastic food, atmosphere and art, and a great venue for
top muso's from around NZ. Home of the Whitianga Music
Club. Great place to listen to music and 'hang' on days off.

Jo Kerry - painter/artiste
Stunning landscapes, abstracts, 3D relief and graphics

Bodhi Vincent - sculptor/artist
Strongly buhddist influenced work. Very clever man!

There could be so many more!! Please contact me if you'd like to benefit from some mutual support and increased traffic to your site (this site has HUGE traffic I'd like to share).

A private counter will tell you how much business I've sent your way (and I'm always looking to trade for new materials).