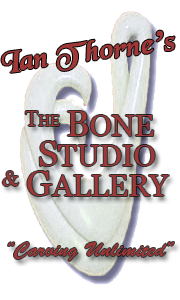 The Bone Studio and Gallery ...
Sculpture
Ian's sculpture pieces are as remarkable as his pendants — and they exhibit every bit the quality and attention to detail in Ian's carvings! These taonga (treasures), large and small, can be proudly displayed anywhere.
Click on an image to see the detailed image.

If you don't see what you like but recognize the quality and workmanship, I accept commissions. E-mail for more information.
"Price tags" are shown to let you know what carvings are available and at what price. Please note that items are being sold all the time so it is imperative that you confirm availability (and the charge for pack & post to you). Only then should payment be made via the Orders Page or via PayPal (via link in the confirmation e-mail).


Mask Chain - whale rib and swamp kauri

"Triumverate"
(front)

"Triumverate"
(back)

Matau on Basalt
(whalebone)

Basalt Matau
(on Soapstone)

"Three Sisters"

"Woven Manaia"
(Sperm Whale Tooth)

"Whale Sail"

"Entwined"
(Hinuera Stone)

"Oceanic"
(Takaka Marble)

"Opoutere Stranding"
(Hinuera on Kauri)

"Opoutere Stranding"
(Pounamu on Kauri)

"Takaka"
(Matau Marble)

"Matau"
(Pounamu on Kauri)
| "Woven Together" | "Family In Growth" |
| --- | --- |
| "Igorlithic Icthyosaur" | "Celtic Spirals" |
| --- | --- |

Purerehua
Whalebone
Sculpture

Waka tohoraa
(blue whale shoulder)

Ripples

"Partners In Growth"

Carved Oamaru stone sphere

Raati Tohoora
(Whale Harpoon)
carved of Takaka Marble

Ray
Andesite, wrought iron & copper

Kereru



Eclipse Andesite

Ruru
(approx 700mm high;
Waiwawa Andesite)

Together
(Takaka marble)

Planetary
(about 1m high
Kairuru Marble)

Petals Oamaru

Pounamu Matau
on Basalt

Solitary
| Growing Hinuera | Meditator | Opoutere |
| --- | --- | --- |

Toki Evolution

Oval Bowl
(Italian Marble)

Unity Dance
| Protection/Support | Growing Together |
| --- | --- |
| Granite Mortar & Pestle | Andesite Bowl | Toki Tahanga |
| --- | --- | --- |