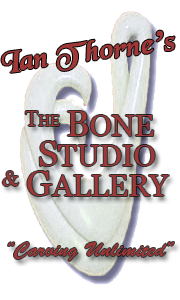 The Bone Studio and Gallery ...
The Gallery's Materials
Overview
One of the premises I have always worked under is
"It's not what can you carve, it's what can't you carve?"
The answer being pretty close to nothing. I've even seen some amazing things carved out of toothbrush handles! It's a massive task to give detailed information on everything that has ever been hacked into by someone with a chisel or a chainsaw ... but here goes!
The following is a brief description of what you can carve:
Bone

Beefbone

Whalebone

Teeth
Jawbone
Ribs
Shoulder
Vertebrae
Fossilisation

Stone

Jade (Pounamu)

Arahura
Inanga
Kahurangi
Kawakawa
Marsden Flower
Rimu
Totoweka

Stone

Oamaru Stone
Hinuera Stone
Andesite
Pumice

Hypertufa
Horn & Shell

Deer Antler

Horns

Tusks

Shells


Leather

Wood

Ebony

New Zealand Timber

Kahikatea
Kauri
Matai
Pinus Radiata
Pohutukawa
Punga
Rewarewa
Rimu
Totara