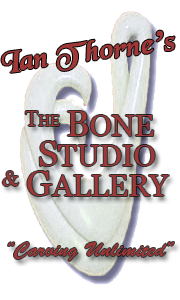 The Bone Studio and Gallery ...
Student Accolades
Students from around the world have enjoyed the Bone Studio and other workshops I have established over the years ... and many have left comments in the visitors book. A few are included below ...
| Twisted Twice | Twisted Waves | Twist and Flick |
| --- | --- | --- |
"During the 3 weeks learning to carve under Ian's expertise, he clearly explained all the techniques and tools. While I was there, the students who came for a day workshop went away very happy and proud of their creations. As I wanted to continue carving in England, Ian taught me in more detail, including using gravers and lashings. Now, back home, because of Ian's help and guidance I continue to carve not only in bone but wood, horn and antler. I also pass on Ian's techniques by running my own day workshops in London and have my own website.
I would like to take this opportunity to thank Ian for his skills, time and patience as because of him I now get to spend my life doing something I love."
Tasmin S, London, UK

Japanese visitors brought a film crew to share their experience!
"Hi Ian,



Click pic for a larger image
with links to each carving.

"I just wanted to drop you a line to thank you for a fantastic week in Whitianga. I had a fabulous time and have expanded my carving skills immeasureably.


I attach some pictures of my 'output' over the week, no-one can believe I achieved so much in such a short time ! I fully intend to continue with the techniques I learned so that I can keep producing the same professional quality of finish that I managed with your tuition, stunning for a ham-fisted amateur like me ! Not only were the practical carving methodsinformative but the cultural and historical information was fascinating too, especially all your musical instruments.

Thanks again, I'll drop in again next time I'm in Whitianga."

Jo




A happy student with an unique taonga!

"This is how to spend an incredible day -- stimulating"

Robert & Simone Fletcher, USA & UK




"I lost myself in the bone carving"

Chie, Oita Japan




"Great piece of work under great guidance"

Erika Woodger, Germany (NZ)




"So nice that I came back a second time. Impatiently waiting for the third one"

Sondrine de Clerq, Dunkerque, France




"Thanks for these 6 (!) hours of relaxed atmosphere enabling me to create something that is already a little part of me!"

Tatjana, Kassel, Germany




"Great birthday experience"

Vera Strynclova, Czech Republic




"Great; I have to come back and make one for my girlfriend"

Markus, Germany




"Great teacher! Great experience! Great result!"

Neil Finn, Luxembourg




"Thanks for the friendship and excellent tuition. I love my pohutakawa tree."

Taryn Port, Samoa




"Best thing I've ever made! Thank you!"

Denise Deihl, Pukekawa